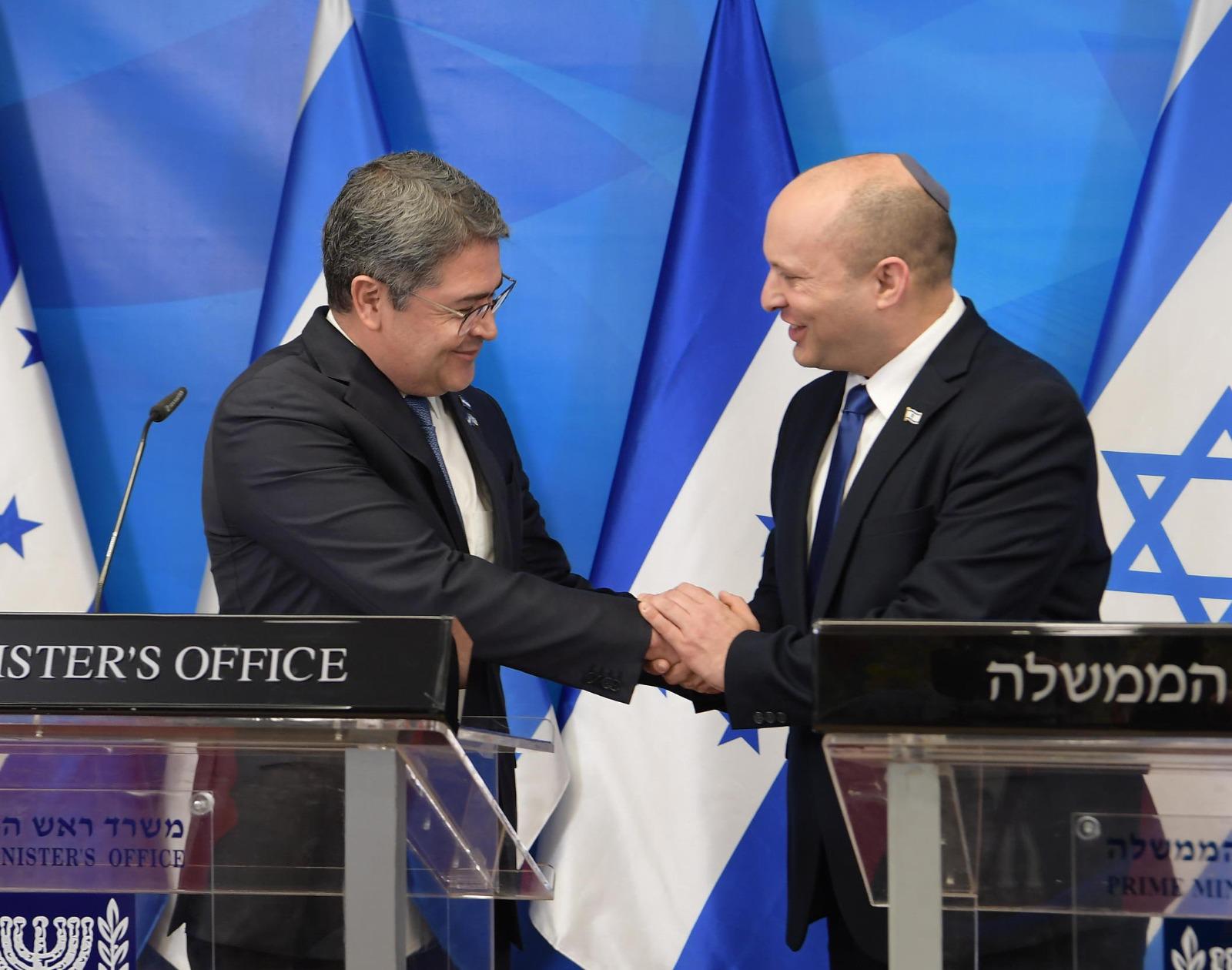 PM Bennett Meets with Honduran President Juan Orlando Hernandez
BY ITZHAK RABIHIYA / SNN, Space Network News

Prime Minister Naftali Bennett, on Thursday, 24 June 2021, at the Prime Minister's Office in Jerusalem, met with Honduran President Juan Orlando Hernandez.
The leaders met privately and then held a working meeting with the participation of Foreign Minister Yair Lapid, Honduran Secretary of State for Foreign Relations and International Cooperation Lisandro Rosales Banegas, the Honduran Minister of the Presidency and the head of the Honduran tax authority.
Following the meeting, the foreign ministers signed a bilateral MOU regarding plans and projects in agriculture, water resource management, health and sharing information on developing innovation. An agreement was also signed on the employment of the spouses of diplomatic, administrative, consular and technical representatives in diplomatic missions in order for them to receive permits to work outside the embassy. The leaders then dedicated the Honduran Embassy in Jerusalem.
Prime Minister Bennett said in his statement to the media, "Welcome to our eternal capital Jerusalem. Your arrival to dedicate the Honduran Embassy in Jerusalem, the reopening of the Israeli Embassy in Tegucigalpa and the cooperation agreement that we have just signed, are an additional indicator of the abiding friendship and deep link between the Jewish state, the State of Israel, and the people and nation of Honduras, under your leadership."
"Mr. President, you are a true friend of Israel. The Jewish people have a long memory and you will inscribed on the pages of history as one who took a courageous and correct action for the State of Israel. Thank you. Bilateral cooperation is very multi-faceted, beginning with trade, agriculture and water, and continuing through to diplomatic and security issues. In the past year we all came together to fight the coronavirus. Every country is still dealing with the pandemic in its own way. We also have the goal of deepening cooperation and we have agreed on expanding into high-tech and cyber, among other fields," said the Prime Minister.
Prime Minister Bennet went on to say, "Mr. President, under your leadership Honduras has consistently stood alongside Israel in international institutions even when that was not always popular and even when it occasionally exacted a price. This attests to friendship – the willingness to take actions that entail paying a price. I would like to thank you and the Honduran public for this support. Mr. President, we will now sign the agreements on expanding cooperation between the countries, and I am convinced that these agreements, and your friendship, will take bilateral relations to new heights of cooperation. Mr. President, First Lady, welcome to Jerusalem, Our home is also your home. Thank you."
Meanwhile President of Israel Reuven (Ruvi) Rivlin held a working meeting with President Juan Orlando Hernández of Honduras, who is visiting Israel.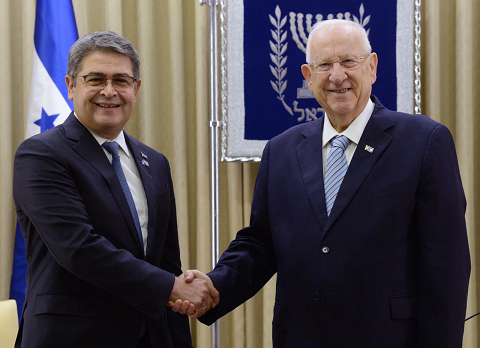 The president welcomed his counterpart, saying "I would like to thank you from the bottom of my heart for opening your embassy in Jerusalem. It is a move that has practical, not just symbolic, importance. As a Jerusalemite, a seventh-generation Jerusalemite, I am particularly excited to see more and more countries following in your path and recognizing Jerusalem as the capital of Israel. Mr. President, as a graduate of the foreign ministry's Mashav program, you already know Israel well and our willingness to cooperate with our friends, to share knowledge and technology when facing common challenges. I have no doubt that under your leadership, our relations will deepen and with them the cooperation between us. On behalf of all Israelis, I thank you for your deep friendship and for the people of Honduras standing with Israel."
The President of Honduras thanked President Rivlin, saying "I am happy and excited to return to Israel, over thirty years since I was part of a Mashav project, and I come back to Israel now with a mission – to open the embassy in Jerusalem and to promote and deepen the relations between the countries. Thank you for your warm welcome."
Attached photo credit: Amos Ben-Gershom (GPO), Mark Neyman (GPO)

SNN, Space Network News (www.spacenetworknews.com)